Notes in the Margin Blog
Meet Stefaine King, Providence Rhetoric School Biology & Anatomy Teacher
March 08, 2017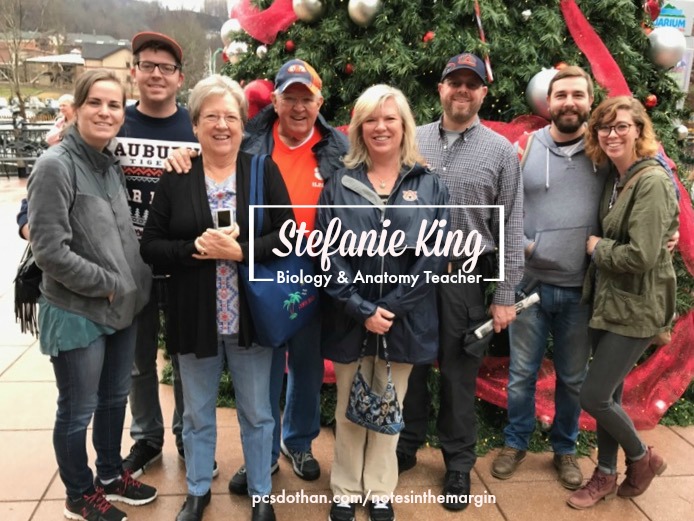 What do you currently teach and what have you taught in the past? This is my fifth year to teach Biology and Anatomy & Physiology at Providence. Before Providence, I have taught sciences to all ages from 5th grade and up. Besides Biology and Anatomy, I have taught General Science, Earth Science, Physical Science, Chemistry, and Health.
What attracted you to teaching at Providence? After we moved to the area, God led me to Providence to apply for a high school science position. Providentially, a position had just become available!
What inspires you to teach year after year? I love the material we cover and uncover in the biological sciences. It is amazing and awesome to attempt to understand and appreciate pieces of information that God has allowed us to comprehend; he created everything so intricately and perfectly -- and it is very good! I also love building relationships with the students who make my life full and purposeful.
Have you or do you currently have children at Providence? My children were in college when we moved to Dothan and are now graduated and working in their chosen professions.
What is something interesting about your family? My son, Benjamin, 27, is married to Caroline. They live in Marietta, GA. Benjamin works in marketing at Home Depot Corporate, and Caroline is a teacher's assistant and works with autistic children. My daughter, Sylvia, 25, lives in Chattanooga, TN, and is an elementary school art teacher.
What university did you attend? I graduated from Auburn University.
Where have you lived? As a member of a military family, I grew up all over the United States. Since I have been married, I have lived in Auburn, Huntsville, Roanoke (VA), and we moved to Dothan in October 2010.
What is an activity you especially enjoy besides teaching? I enjoy playing games with friends, like Dominoes and Canasta. I find it relaxing and stimulating at the same time. I also love to watch movies!
What is a special memory that you have? Every year I enjoy adding a large paper tree to my classroom wall with all the names of the current students on leaves. Even after the students have graduated, I can still read their names and remember good times past.
Three adjectives you aspire to: positive, prepared, punctual
What is a favorite passage of Scripture or a favorite quote of yours? "Finally, brothers, whatever is true, whatever is honorable, whatever is just, whatever is pure, whatever is lovely, whatever is commendable, if there is any excellence, if there is anything worthy of praise, think about these things." Philippians 4:8 (ESV)