Notes in the Margin Blog
Andrea Tew
October 30, 2019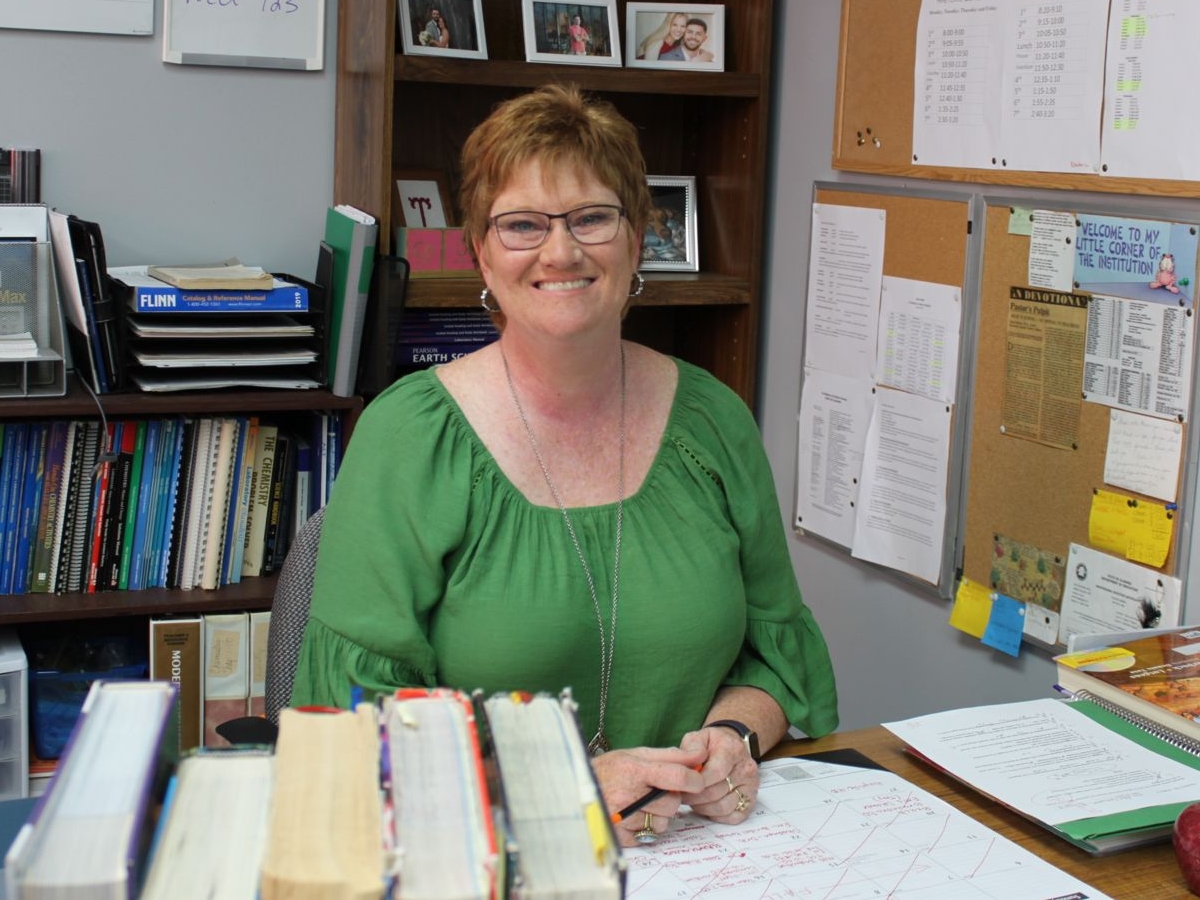 What do you currently teach and what have you taught in the past?
I am currently teaching Chemistry (11th grade) and Earth Science (7th grade). I have taught chemistry, physics, earth science, life science, and biology in the past.
What attracted you to teaching at Providence?
I was attracted to teaching at Providence by my experiences from tutoring Providence chemistry students over the past 2 years. It was evident that there were good things going on at Providence and I am thrilled to be able to join this family!
What inspires you to teach year after year?
I love chemistry! And I love the relationships that are forged with my students each year. Seeing them grow as a student and as young individuals encourages me to continue what I am doing.
Tell us about your family?
My family and I are from Headland. My oldest daughter, Beth, is a RN. She and her husband, Aaron, blessed me with my first grandson this year! His name is Steadman. My middle daughter, Emily, will graduate from Troy University in December with a degree in Communications/Public Relations/Marketing. She works for a public relations/marketing firm in Montgomery. She is getting married in December, just a few weeks after her graduation. My son, Ben, is a freshman at Troy University. He is majoring in Business. We lost my husband to cancer in 2003. He was a wonderful husband and father and is waiting for us to join him in Heaven at our appointed time.
What is something interesting about your family?
After my middle daughter marries in December, she and her sister will both have the last name Jones. Beth is married to Aaron Jones. Emily will marry Brannon Jones. Aaron and Brannon are not related. Who would have ever thought that they would both end up with the same married name?
What school / universities did you attend?
I received my Bachelor's degree from Troy University in Troy and my Master's degree from Troy University in Dothan. Both were in Comprehensive Science, Secondary Education
Where have you lived?
I grew up in the Midland City area but have lived in Headland for the past 30 years
What is an activity you especially enjoy besides teaching?
My favorite thing to do outside of school is to spend time with my family
Three adjectives you aspire to:
Trustworthy, honest, and kind
What is a favorite passage of Scripture?
1 Thessalonians 5:16-18
Rejoice always, pray continually, give thanks in ALL circumstances; for this is God's will for you in Christ Jesus.