Notes in the Margin Blog
Defenders and Protectors
September 15, 2017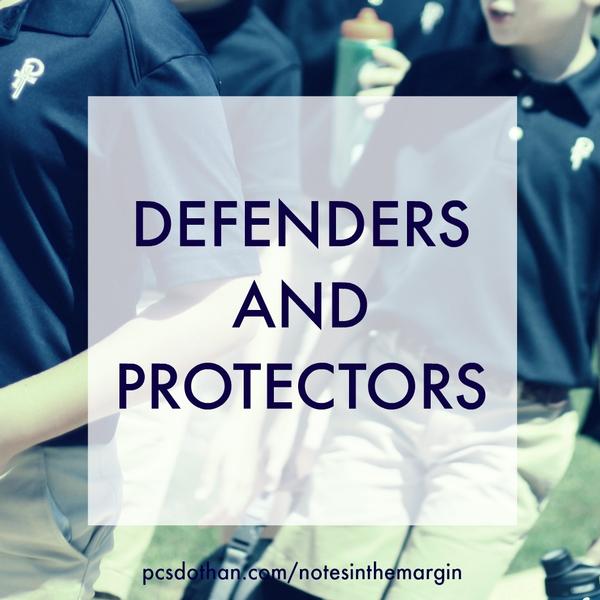 Recently I addressed a group of boys in the grammar school regarding the appropriate use of language, especially in regard to the presence of their girl classmates and lady teachers (and their moms/sisters/grandmothers, etc.). Our talk centered around coarse language- it was made clear that profanity is never appropriate anywhere.
A few thoughts:
Pre-adolescent boys need to understand that God made them the way that they are, and that being different from their girl classmates is a good thing. If you are a boy it is good to BE a boy. (Who would have ever thought that we would need to tell boys and girls that they should relish and appreciate their differences! But we do.) Gender-confusion is partly due, I believe to the confusion that is presented by culture. The over-feminization of culture, and of the Christian Church, often doesn't recognize these differences. Boys (like their daddies) respond to a challenge, not in wanting to "be nice."
Boys need to be challenged to honor and respect ladies, girl classmates, their teachers, and their moms. In fact, the manner of respect a young man is required to show toward his mother is practice for the regard he will one day show toward his wife.
And boys need to understand that a root beer induced belching contest between boys at an 11 year-old spend-the-night party at a friend's house IS funny. But it is not a way to impress girls and it is not cute at the Sunday dinner table.
Being a boy is awesome, but, like everything else, what goes with it is responsibility of time and place appropriateness, understanding in how to honor ladies, and that being a defender and protector of them is one of the greatest privileges that our Lord calls us to. It requires a large measure of adult patience and intentional practice.
We exist to partner with families in helping foster these traits. All of Isaiah 61 is geared toward the topic of masculine godliness and I particularly like verse 1 in our call as men to be defenders and protectors.
"The Spirit of the Sovereign Lord is on me, because the Lord has anointed me to preach the good news to the poor. He has sent me to bind up the brokenhearted, to proclaim freedom for the captives and release from the darkness for the prisoners." Isaiah 61:1 (NIV)
- Emory