Notes in the Margin Blog
Meet Valentina Adams: Humanities Chair and 9th Grade Humanities Teacher
February 08, 2017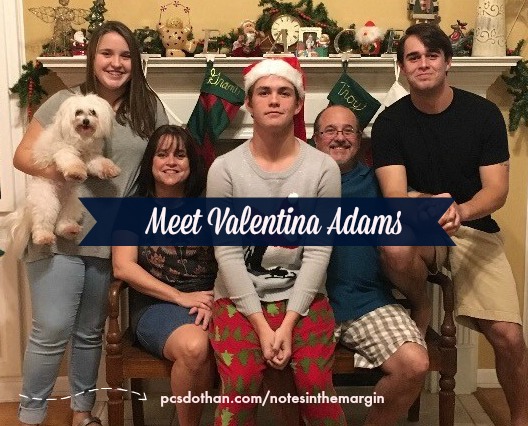 What do you currently teach and what have you taught in the past? I currently teach 9th grade Humanities. In the past I have taught Spanish and 9th, 11th and 12th Grade Literature.
What attracted you to teaching at Providence? In 2005, Gary Waddell "overheard" me say I was a teacher while I was in the adorable "cottage" offices waiting to pick up Troy (who was in 2nd grade at the time). Mr. Waddell strongly "encouraged" me to apply and then the Lord opened the doors and made it exceedingly and abundantly clear that HE, God (not Gary), wanted me to work at Providence. And I've been here ever since.
What inspires you to teach year after year? This year I have been especially inspired by the content of the curriculum for Humanities III. I love teaching my students about the foundation of the United States of America and reading incredible American Literature! In addition, the material from my coursework at Faulkner University, where I am working on a Master's in Humanities, inspires me to want to share everything I learn with my students. Finally, meeting with my HumaniTEAM inspires me to be a better teacher!
Have you or do you currently have children at First Presbyterian Preschool and/or Providence? My oldest son Troy is a 2015 graduate of PCS and attends Birmingham Southern College. My son Grant is a junior, and my daughter Faith in an 8th grader here at PCS.
What is something interesting about your family? My husband's grandfather, Eugene Adams, was a radio man on one of the first PanAmerican flights from Miami to Cuba. While in Cuba, he met and married Lucy Inclan. Lucy did not speak English, and Eugene did not speak Spanish; yet, they married and stayed married for 60 years and later died within weeks of each other. In addition, they agreed early in their marriage not to teach the children Spanish so that they could argue (I mean discuss things), without the kids knowing what they were talking about.
What university did you attend? Florida International University, home of the Golden Panthers.
Where have you lived? Miami, Florida; Stuart, Florida; Dothan, Alabama
What is an activity you especially enjoy besides teaching? Why? My favorite activity is going to the beach with my family, eating delicious snacks that we picked up at Publix on our way, and reading a book by my favorite Southern Women's Literature author, Eudora Welty.
What is a special memory that you have? I have too many special memories to list just one: taking my class on a "field trip" to the new Target so that we could get Starbucks, directing Mrs. Nelson (formerly Hannah Maxwell) in Cinderella, and the annual zoo field trip with Mrs. King in the spring, when nature is blooming all around us.
Three adjectives you aspire to: joyful, peaceful, alert
What is a favorite passage of Scripture or a favorite quote of yours? "In repentance and rest is your salvation, in quietness and trust is your strength." Isaiah 30:15