Preschool and Early Childhood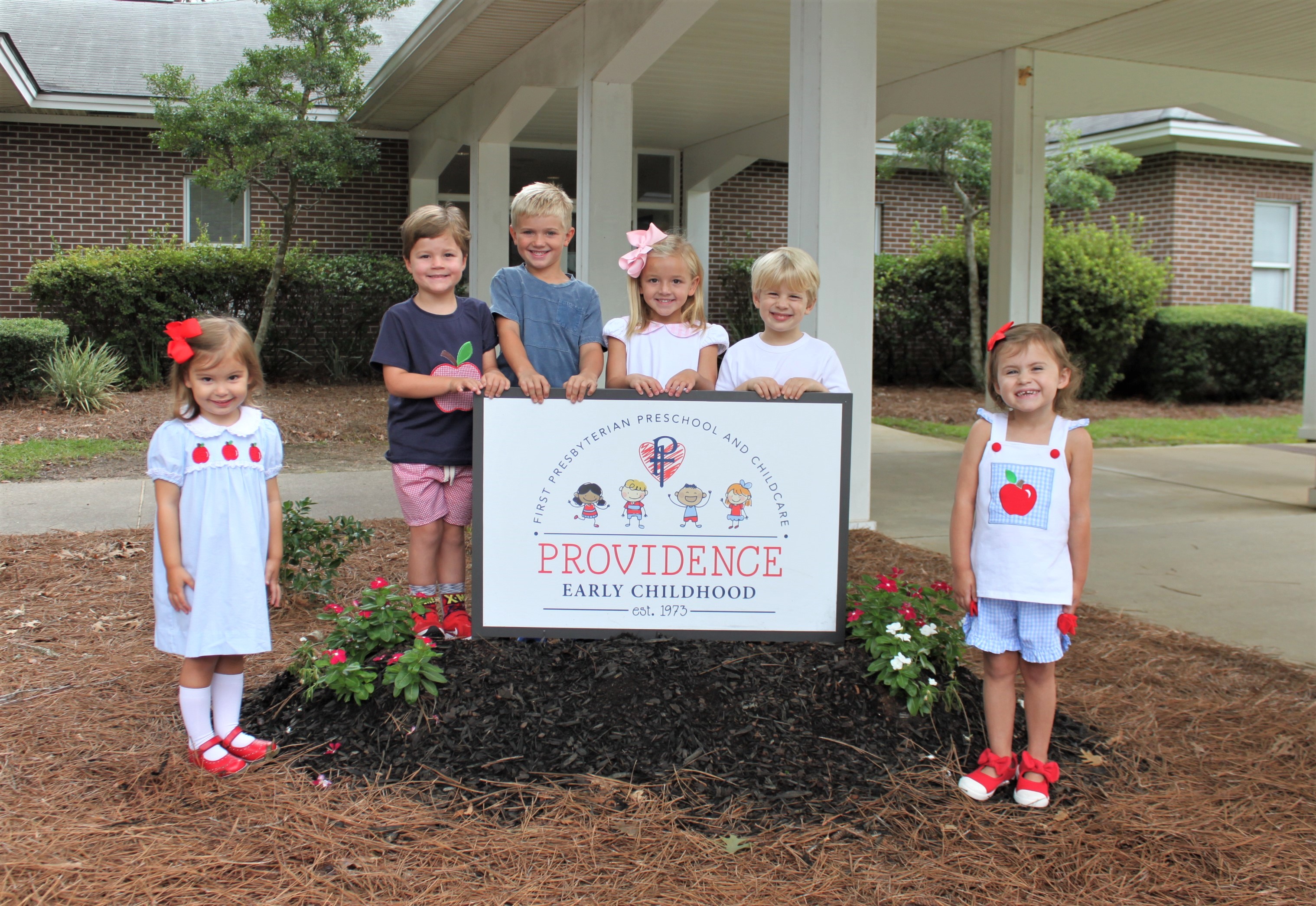 Preschool - Providence Early Childhood
The vision for Providence Christian School was inspired in part by the success of another ministry of Dothan's First Presbyterian Church--Providence Early Childhood Ministries
Providence Early Childhood Ministries (formerly known as First Presbyterian Preschool) was established in 1973 as an educational service to our covenant and community children, and is open to families who desire for their children a quality education from a Christian worldview.
Providence has grown, the two schools have enjoyed a wonderful relationship, with a large number of preschool and childcare families choosing to attend Providence in an effort to continue the quality, biblically-based education their children have experienced in the preschool years.
Children can attend Providence Early Childhood Preschool for K-3, K-4, and K-5.
PEC will begin taking applications for the following school year each February. For more information about enrolling in preschool, please visit our admission page. To visit the preschool campus or for more information about the preschool please contact:
Bonnie Wright,
Early Childhood Director, Preschool & Childcare
(334) 793-6283 (morning hours)
BWright@prov-ec.com
Classes and Hours
Located on the campus of First Presbyterian Church (PCA) in Dothan, Alabama, Providence Early Childhood Preschool offers K-3, K-4 and K-5 (kindergarten) classes. We offer a preschool and kindergarten education, specifically providing strong preparation for students who intend to enroll at Providence Christian School as well as other community schools.
Preschool Class offerings include:
K-3 (Two mornings per week) Tuesday & Thursday
K-3 (Three mornings per week) Monday, Wednesday & Friday
K-4 (Five mornings per week) Monday - Friday
K-5 (Five mornings per week) Monday - Friday
All preschool and kindergarten classes begin at 8:30 and end by noon. Our K-3 and K-4 students dismiss at 11:45 (Carline pickup A), and K-5 students, along with siblings and/or friends who carpool with them, will dismiss at 12:00 noon (Carline pickup B).
Childcare
Families in need of additional before and after school childcare as well as full-time summer childcare may apply for the childcare program, which is a separate offering within the Early Childhood Community Ministries of First Presbyterian Church and is located on the same campus. Childcare classes are available beginning at age three through kindergarten.
Mother's Morning Out (Little Lambs)
While the Early Childhood Communities Ministry does not administer the MMO (Little Lambs) program, we would be happy to put you in touch with the wonderful ladies in the First Presbyterian Children's Ministry office who oversee that program and can answer your questions. The MMO program serves children ages three months to three years. Click here for information about this program.