Notes in the Margin Blog
Meet Bill Oldfield: PCS Athletic Director
March 15, 2017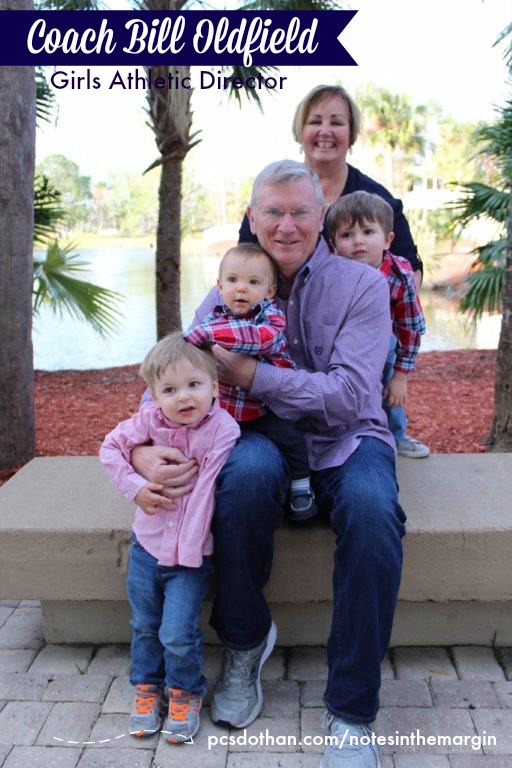 What do you currently teach and what have you taught in the past? Geometry. (I also serve as the girls athletic director and the volleyball coach.)
What attracted you to teaching at Providence? Starting up and coaching the volleyball program is what first attracted me to PCS. The more involved I became, the more I realized it was a special place and that God was calling me to be here.
What inspires you to teach year after year? Building strong relationships with my students and players and making a difference in their lives.
Have you or do you currently have children at Providence? No; although, I do have a Providence graduate from the class of 2007.
What is something interesting about your family? My children are brilliant but polar opposites; my daughter is a chemical engineer and my son is an Anglican priest.
What university did you attend? Georgia Tech
Where have you lived? I grew up in Orange Park, FL. But as a former Military Officer, I was stationed in many places: Orlando, FL; Idaho Falls, ID; New London, CT; Portsmouth, NH; and Charleston, SC, to name a few.
What is an activity you especially enjoy besides teaching? Coaching Volleyball. I love to coach all ages. I get great satisfaction when my girls play this sport at a high level of skill. I love watching them grow in the sport and be successful.
What is a special memory that you have? Winning back-to-back state volleyball titles.
Three adjectives you aspire to: 1. Being more computer savvy. 2. Being more faithful. 3. Being more helpful.
What is a favorite passage of Scripture or a favorite quote of yours? 1 Thessalonians 5:11: "Therefore encourage one another and buildup one another, just as you also are doing."